VPS vs Dedicated Server
Last Updated: February 9th, 2023 4 min read Severs Australia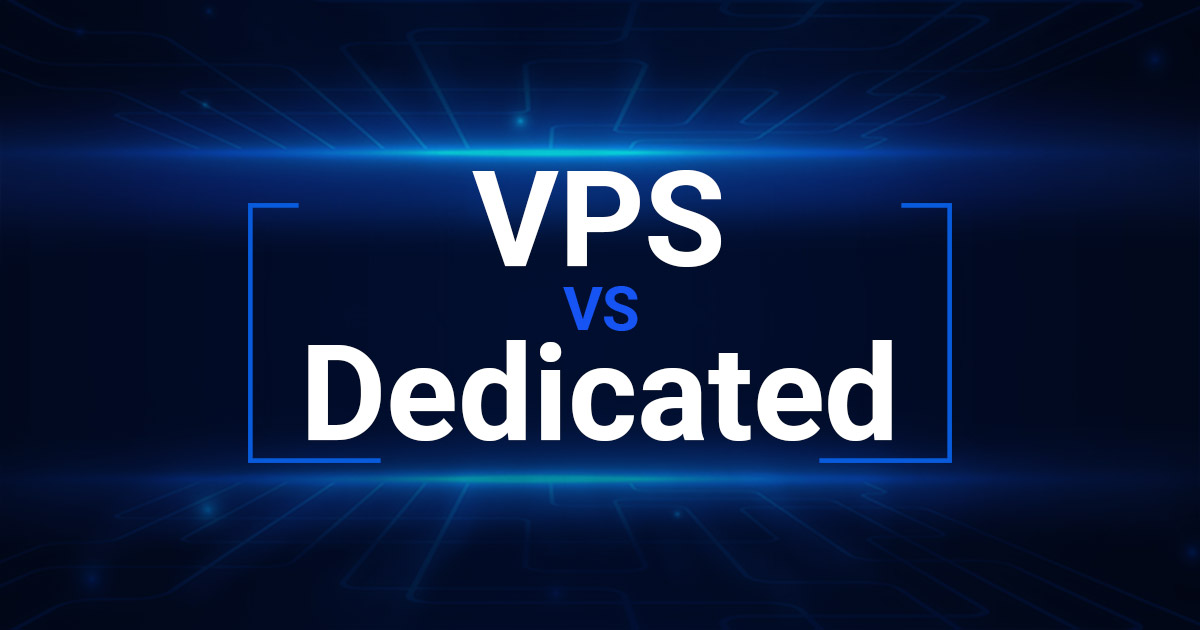 You've been running your business for a while and you've seen the traffic to your website grow, as your unique visits increase so does the load on your server. As time goes on and visitors increase, your website performance will eventually be impacted. With industry statistics indicating that a 1-second delay in loading speed can cost you 7% of your sales conversions, the importance of website performance cannot be overestimated. 
So, is it time to upgrade your hosting? The first step is to consider the type of hosting that will suit your business and whether it will continue to perform as your business grows. Your WordPress or shared hosting solution has served you well in the past, but a Virtual Private Server (VPS) or Dedicated Server might be the upgrade you're looking for. 
Deciding on web hosting is important and can be a daunting task, so we've compiled a comparison guide where we will discuss the similarities and differences between VPS and Dedicated Servers to help you determine which is the best option for your business. 
Why choose a VPS? (Virtual Private Server)
VPS is a Server in one of our industry-leading Data Centres that is partitioned into several smaller independent servers. One of these smaller servers is then dedicated solely to your business. They are a perfect way to get your own dedicated operating system and host your business in the Cloud. With a VPS, you're allocated a certain amount of RAM, bandwidth, and server space. Servers Australia's VPS offering is a high-performance, reliable, great-value product and is easy to manage. It's the next logical step up from our Managed WordPress product. However, if you're anticipating rapid business growth or have already experienced unexpected business growth, you may want to look into a Dedicated Server.
Why choose Dedicated Servers?
A Dedicated Server is an entire server in one of our top-tier, Australian Data Centres that is only for your business. You have access to all of the servers' resources, and you will be able to configure the hosting environment however you see fit. Servers Australia's Dedicated Servers are completely scalable and configurable. They come with complete root access, your choice of Linux, Windows or VMware Operating Systems, access to the mySAU Portal for further configuration and are backed by 24/7 Australian based phone support. If you're in a hurry, we have 'Ready-to-Go' Servers that can be provisioned in minutes. We also offer the option to have us manage your server for you if you don't have the resources to do it yourself.
Should I choose a VPS or Dedicated Servers?
There is no right or wrong answer when you're deciding between a VPS or a Dedicated Server. Both are great options for web hosting, and your decision will depend entirely on your business needs now, and your projected business needs in the future. When deciding between the two, you'll want to consider the type of site you're running, along with how scalable you want your hosting environment to be in the long run.
The big questions are
Does your site anticipate a large volume of traffic requiring lots of bandwidth?

Does your website need a lot of processing power to run scripts and back-end applications, or will it in the future?

Do you or will you need to host large media files that require a lot of storage space and bandwidth?
If you answered yes to any of the above questions, then a Dedicated Server is probably the right choice for you and here's why:
You can configure your server to have the storage and specifications you require without the worry of other sites slowing yours down. As your business grows, you have the option of scaling your Dedicated Server to meet the new requirements.
A VPS is worth considering if your business is growing but your website isn't resource heavy (large images or files) and doesn't require a huge amount of bandwidth and storage space. VPS's give you a lot more storage and options than a Managed WordPress solution and doesn't break the bank!