What is High Availability (HA)?
Last Updated: February 9th, 2023 6 min read Severs Australia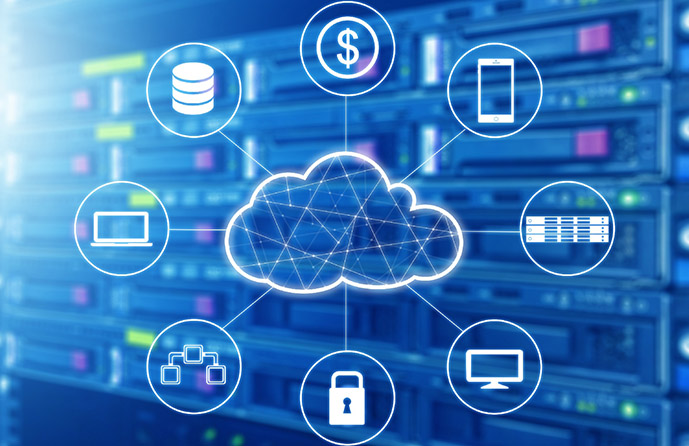 Many businesses have shifted significant portions of their operations to the cloud in recent years, alleviating the stress once associated with running servers and maintaining infrastructure in-house. With that shift, though, has come a potential peril, a loss of service due to equipment failure, power outages or dropped internet connections.
If you're relying on the cloud or a hybrid cloud system for your business operations — including critical data storage, company intranets, public-facing websites and other applications — you know that minimising downtime is critical for business continuity.
The Importance of High Availability
Preventing downtime with IT Disaster Recovery (DR) is an incredibly important priority in more ways than one, allowing you to ensure to continued productivity of your employees and preserve the reputation of your business. If you would like to eliminate the risk of downtime and all of the consequences that go along with it, working with a high-availability hosting provider is certainly an excellent option to consider.
Even short periods of downtime can cause consequential losses for your business, including incomplete purchases, lack of access to critical data, and damage to your brand reputation. Direct financial losses can prove significant, but the loss of trust among your customers can create long-term barriers to success and growth.
The purpose of HA architecture is ensuring that your server, website or application can endure different demand loads and different types of failures with the least possible downtime. By using best practices designed to ensure high availability, you help your organisation achieve maximum productivity and reliability.
With a high availability strategy in place, you reduce the negative impacts of downtime and implement automatic recovery from system failures.
What is High Availability Infrastructure?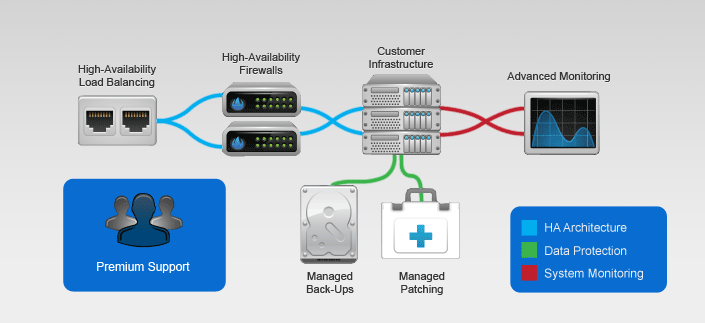 A high-availability infrastructure is designed from the top down to guarantee the utmost availability and uptime of your IT infrastructure. To offer this level of availability, high-availability hosting providers rely on a number of technologies and services. These include things such as high-availability firewalls, advanced monitoring and patching, disk-to-disk-to-tape continuous data protection, enterprise-grade hardware, and load balancing.
Through this combination of advanced technological solutions, premium services and support, and multiple redundancies, high-availability hosting providers are able to guarantee virtually zero downtime – a huge benefit if it is absolutely essential that your IT infrastructure remains fully operational at all times. What's the difference between Fault Tolerance and High-Availability?

However, loss of productivity is only a secondary concern compared to the loss of customers and the damaged reputation that downtime can cause. Even the most loyal customers will often demonstrate very little patience when they attempt to access the website of a business and find that the website is unresponsive. It won't take long for them to seek out one of your competitors – and many may never return again.
Customers like to know that the business they are working with will always be able to meet their needs. Having your business go offline, even for a short period of time demonstrates to customers that you are not up to this task. Fair or not, this can be incredibly damaging to the reputation of your business. You need to be prepared for Disaster Recovery.
With all of that said, high-availability hosting eliminates all of the risks and concerns associated with downtime, letting you rest assured that your IT infrastructure will always be available for both your employees and your customers to access. High-availability hosting or solutions such as DRaaS – Disaster Recovery as a Service may not be a necessity for every single business, but for businesses that are adamant about maintaining constant, uninterrupted availability, it is a very worthwhile investment.
When Should You Consider Adopting a High-availability Infrastructure in Your Business?
There is no right or wrong time to consider adopting a high-availability infrastructure. However, there are various scenarios where having a high-availability infrastructure becomes ideal.
For instance, if your business has grown to the point that even a small amount of downtime becomes incredibly costly, high-availability hosting becomes well worth the extra cost. Amazon, for example, loses an estimated $66,240 for every minute that their infrastructure is down. Your business may not be anywhere near the size of Amazon, but consider the fact that 20% of even small to medium sized businesses lose an estimated $56,853 for every hour of downtime.
Another scenario where it may be beneficial to consider high-availability hosting is if you have been bitten by downtime in the past and want to avoid any future repeats of the disaster. Having a Disaster Recovery Plan and understanding the importance of having an IT Disaster Recovery Plan is essential for your business. If your hosting provider simply isn't able to guarantee a level of uptime that allows you to rest easy, why not switch to a high-availability hosting provider and eliminate the concern of downtime altogether? After all, even if a hosting provider offers 99.9% uptime, that still translates to about nine hours of downtime per year. Only with high-availability hosting will you be able to prevent downtime completely.
High Availability: Achieving the 'Five 9s'
High availability — or HA — provides a method for organisations to protect against the lost revenue and other negative outcomes caused by a service outage. With systems and infrastructure designed for maximum uptime, defined as 99.999 percent or the "five 9s," businesses mitigate their risks.
HA is an approach that uses specific components and methods to ensure the best possible performance of the system, even during periods of high traffic or stress. Situations like power outages and equipment failure are unavoidable in the real world, but HA provides a way for businesses to minimize the negative consequences.
Characteristics of HA Systems
High availability systems can be designed and implemented in a variety of ways to best meet your specific business needs. However, HA systems typically are created with certain best practices in mind.
Redundancy of systems and data, through multiple machines or partitions.

Applications deployed over multiple servers to avoid overburdening of any one machine in times of high load.

Smart use of components to ensure maximum stability and availability.

Shifts to standby resources as needed in the event of component or service failure.

Rigorous testing of components and services to ensure maximum availability, performance, and security.
HA systems also include comprehensive strategies for backup and recovery in the event of data corruption or destruction. Full data backups, combined with incremental testing, ensure data integrity to avoid issues with billing, customer authentication, and other sensitive business processes.
The primary goal of HA is eliminating single failure points in your systems and infrastructure that would lead to interruption of your operations or services. Redundancy — along with methods for spotting failures and taking corrective actions — helps keep your systems up and running at peak efficiency.
Are Your Business Processes Highly Available?
When you implement a high availability strategy within your organisation, you reduce the risk that service outages can pose to your business continuity, profits, and reputation. With scalable, cloud-based services, you can have a highly available system up and running quickly and cost-effectively.